Birds in Wyoming
When it comes to size, Wyoming is amongst the top ten. The population doesn't reflect that though, considering it is the lowest. For a bird watcher though, this is as ideal as any location can get. Quite mixed with a great expanse of land, what more could you ask for?
What Is The State Bird Of Wyoming?
As far as the choice for state birds go, Western Meadowlark is quite popular. Wyoming is no different with appointing the species in the role in 1927. These bright yellow species with a V shaped area of dark color around its throat actually have chosen the ground to make their nest in instead of a tree. Often, you will find them perched on top of fence posts, singing their familiar flute like tune.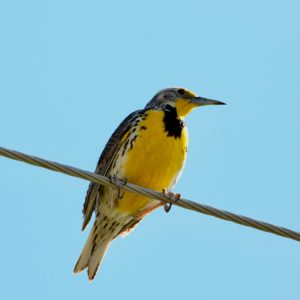 What Are the Top Bird Watching Spots In Wyoming?
Yellowstone National Park has hot springs, geysers and is among the best birding locations. Your pick of birds here ranges from Yellow-rumped Warbler, Hammond's Flycatcher, Steller's Jay to Swainson's Thrush, and Dusky Flycatcher. Let your eyes wander upwards, because that's where you will see some White-throated Swift and Golden Eagle.
Seedskadee National Wildlife Refuge has Common Goldeneye, Sandhill Crane, Common Merganser, Cinnamon Teal amongst the many birds it can boast of. It's just 40 miles away from Rock Springs and the 36 miles of Green River is accompanied by this refuge. Birding is simply a delightful activity here.
GET KIDS BIRD WATCHING
How Many Birds Can You See in Wyoming?
438 species have been seen flying over the state of Wyoming. Albany, Natrona, Laramie, Fremont and Teton are counties with quite a close species count and places bird watchers tend to place in their bucket list when visiting Wyoming. The count for these are 355, 351, 332, 327 and 316.
Wyoming Hereford Ranch with its 268, Hutton Lake NWR with its 228 and Edness Kimball Wilkins SP with its 213 are often chosen by bird watchers as the hotspots where they are sure to find some eye-catching birds.
Top Birds To See In Wyoming
Burrowing Owl is like most owls in appearance, though it has more prominent brown and white stripes. Though it's one of the smaller owls, the leg of the owl is quite long.
Bullock's Oriole is another uncommon bird of Wyoming. It's so beautiful in appearance that it's impossible to ignore. The strong orange yellowish color mixed with dark black and white wings really lends visibility to the species.
Common Birds To See In Wyoming
Cheynne and Casper, two of the most hustling bustling cities of Wyoming are often greeted by birds such as Dark eyed junco, Northern Flicker and Red-winged blackbird. These backyards birds of America infiltrate every bit of Wyoming and the citizens love it.
Final Thoughts
Birds in Wyoming have their own appeal as it does for any other state. For a bird watcher, there is nothing more fun than seeing some native birds in its state as it is catching some rare migrant birds. You can experience both in Wyoming.