Birds in Florida
You can't call yourself a birdwatcher and not visit Florida at least once. The sunshine state's subtropical habitat means birds you would be hard-pressed to find in the rest of the United States can be easily seen here such as Limpkin and Snail Kite.
What Is The State Bird Of Florida?
The Northern Mockingbird was designated as Florida's state bird officially in 1927, enjoying the same status in Tennessee, Arkansas and Mississippi as well. Known for its ability to memorize 200 songs, Northern Mockingbird's vocal cords have always been the subject of praise.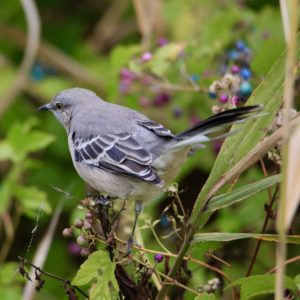 GET KIDS BIRD WATCHING
What Are The Top Spots To Go Bird Watching In Florida?
Barely an hour away from Miami airport, the eastern United States biggest wilderness grounds are protected by Everglades National Park. While a lot of the park is restricted, bird watchers have the opportunity to come across birds on the drive along the main road, which is about 38-mile-long. Birds such as Anhinga, Black-whiskered Vireo, Bronzed Crowbird can all be seen if you're diligent enough.
J.N. "Ding" Darling National Wildlife Refuge is one of Florida's beloved birding sites. The juxtaposition of cafe and condos with wetlands and greenery gives birders the opportunity to birdwatch and rest in the buildings. Gray Kingbird and Mangrove Cuckoo can be seen if you plan your trip right. Magnificent Frigatebird and Osprey are a common sight in the area.
Myakka River State Park allows you to hike, kayak, and canoe, which in turn gives you the opportunity to come across amazing bird species. Sandhill Crane, Limpkin, Crested Caracara and Swallow-tailed Kite are the most you have chances of seeing.
How Many Birds Can You See In Florida?
Florida has the luxury of boasting about 586 bird species that have been spotted in the state. Among the counties for birds in Florida, Miami-Dade seats proudly at the top with 429 species of birds seen there. Pinellas is a close second with 426. Progressively, we have Brevard, Palm Beach and Monroe with 416, 411, 401. As you can see, there isn't much difference between the count of birds seen in all the countries so you will pretty much be able to come across all kinds of birds spotted in Florida if you just visited one of the countries and took a tour of the entirety of it.
If you want to chance upon the most diverse mixture of birds in Florida, your obvious option should be Lake Apopka, North Shore which is in Orange county. About 353 species have been spotted in the area. Fort De Soto Park with 345 and St. Marks NWR with 332 are also good choices.
Top Birds To See In Florida
In United States, Florida is the only state that can boast about having the Snail Kite. This medium-sized bird species has a sharp bill, a completely black body with the exception of the white sprinkled just before its tail area.
Other than a few places in South Georgia, Limpkin has extensively chosen Florida to be its breeding grounds. This two feet long bird has a dark brown plumage that has white streaks sprinkled in small doses and the bill has a slightly orange color along with being long and curved.
Common Birds To See In Florida
Blue Jays, White Ibis, and Northern Mockingbird are a common species in Miami. These are the birds you're most likely to come across if you take a tour of the city.
Goldfinch, Tricolored heron, Red-tailed Hawk are something you come across quite a lot in Orlando. So, a mini trip to the cafe can let you see some colorful birds here.
Final Thoughts
Florida is ideal for birdwatching. Even if you never visit specific birding spots, just lazing around Miami beach would give you the opportunity to come across beautiful shorebirds.